I was introduced to LeAnna
after it was already to late to help...
If I knew LeAnna before this restaurant opened,
I would have warned her about building out a Restaurant
on a limited budget.
Why it is more cost effective to Buy
an Operating Restaurant For Sale!

Lots of Time to Build Out, Cost of Building Grease Traps,
ADA Restrooms, Hood Vents Contractors, Sub Contractors
and Time it takes to build up traffic in a New Shopping Center...
LeaAnna has given me permission to re-print here story here.
(Please see the Restaurant Review at the end of this story)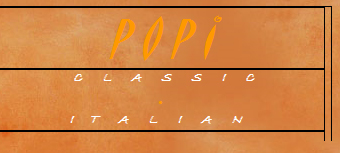 Following is a Final Message from the Owner of Popi:


This e-mail is intended for all of our Friends, Family,
Employees, Customers and Vendors.

It is my heart staking responsibility to inform you all that as of 7/10
the doors of POPI Classic Italian have been permanently closed.

POPI Classic Italian was a family owned and operated casual dining establishment.
It was a place that fostered growth not only for the Abbate family-
but the employees that were considered "family".

For those of you that were our guests you were a fuel to keep our fire burning.
Not the kind of ravenous fire that wipes out city's or acres of land…
but the kind of comforting fire that a camp will huddle around,
bringing a diverse group of people together to tell their stories and reminisce.

Our Staff and Vendors supplied us the tools we needed to start the fire.
And to all of you I give "thanks".

Every time you drive by an empty strip mall I want you to think.
Don't blame the recession or struggling economy for this re-occurring misfortune.
Many small business owners close down and walk away
with their heads sunk down, feeling defeated.

I am taking a different approach. Please take a moment a read our story.
"Each of us is a being in himself and a being in society,
each of us needs to understand himself and understand others,
take care of others and be taken care of himself. " ~Haniel Long

We signed our lease over 2 years ago when things weren't quite as bad.
We were delayed in opening due to the struggling economy.
The absence of higher paid, experienced craftsmen
resulted in many oversights in our build out.

We were forced into paying over $20,000 of our money
to the contractor at the eleven and a half hour of the build out.

The addition of this unforeseen expense put us in an uncomfortable position
opening our doors with minimal operating capital.
The greed and financial problems of the Developer/Landlord
and General Contractor were the result of thousands of our dollars spent
on this project before our doors opened on February 18, 2009.

It was at that time that the Developer/Landlords recommended
that we take on a partner. He had someone in mind that the General Contractor knew.
We refused his recommendation.

Business started out slow for us in this vacant strip mall.
Obscure in its placement on the corner of a busy intersection,
the shopping center was bleak and missing the critical anchor
that the developer promised.

"Promises are the uniquely human way of ordering the future,
making it predictable and reliable to the extent that this is humanly possible."
~Hannah Arendt

Our concerns were disregarded by the Developer/Landlord.
Simple remedies such as lighting the 2 monument signs on the street were ignored.
Where was the relief in these hard times? Concession?

Con•ces•sion (n) something, e.g. a privilege, right, or kindness,
that is granted to a person or group, usually in view of special circumstances

Rent was due almost immediately upon opening.
A rate that was agreed upon 2 years prior was not attainable.
All attempts to negotiate were denied.

Threats from the Developer/Landlord came recently
and we conceded to the acceptance of a partnership.

"A half loaf of bread is better than no bread", were the words of my father.

An offer was made by the same candidate that the General Contractor
recommended before we opened. He would allow us to stay as the minority,
leaving a portion for his partner, the General Contractor
(the same General Contractor that unexpectedly
demanded money from us before opening).

Needless to say I was leery. We continued our search
for a trustworthy partner, one that wouldn't leave us as the minority.
Working against the ticking clock and forceful threats,
I sought the advice of an attorney. I was prepared to spend
what little money I had for his legal counsel to protect us and slow the clock.

The attorney contacted the Developer/ Landlord
and uncovered some gray areas.
There were some discrepancies in the money that was borrowed
for the project and what had actually been spent on the project.

Immediately the plug was pulled and the Developer/Landlord
refused any "partnership" and was preparing for our eviction
if we didn't come up with all of the defaulted rent on our own within 48 hours.

We had no choice but to close our doors on 7/9/09 less than 5 months from our opening.

It has been brought to my attention that today (7/11/09)
our location is under new ownership.

They are temporarily closed and trying to obtain licensing.
They are hiring and have a sign on the door giving contact information.

One of the people to contact with employment inquires is the General Contractor.
It has also been brought to my attention that there are several liens
on the entire property from sub-contractors that have not been paid.

So where does all this money go?
The money that the Developer/Landlord gets from the bank that never went to us?
The money that we had paid to the General Contractor if he hasn't paid his sub's?
Doesn't make me wonder anymore when I drive by those empty shopping centers…
"Why are they all empty?"

I am a respectable member of my community.
My business cultivated growth in the community by creating jobs
and satisfying consumer needs.

I am an apprentice… a neighbor… a leader… a friend and a daughter.
I am not independently wealthy nor have a line of investors.
I simply owned a business to create a future for FAMILY.
Not just my family but the families that worked for me and next door to me.
This is snapshot of what happens to the little fish swimming with sharks.
Thank you for taking the time to read my story.
---
A Review of Popi Classic Italian by Michele Kent

Livin' La Vida LocaL
Authenticity
You may have caught on by now that I'm a bit of a food lover. My husband laughs
because when I am eating breakfast, I'm often eagerly planning lunch and dinner.
So when Around Town Cumming readers responded to last month's "living locally"
article, I was thrilled to see the new Popi Classic Italian Restaurant repeatedly submitted.

I approached Popi with cautious optimism.

I've spent a disproportionate amount of my time this past decade
trying to find the flavors I'd experienced in Italy. I remember
asking the owner of a little trattoria in Italy what his secret was.
"No secret," he said. "You Americanize everything."

He went on to illustrate how we bury delicate tastes instead of letting
natural flavors harmonize together. I conceded; we are overdoers,
and when it comes to food, it is bad, very bad.
So it would be an understatement to say I didn't have high
hopes. What a tremendous surprise I was about to experience.

The atmosphere at Popi had a soothing palette of color — a
place comfortably between a pizzeria and an upscale restaurant.
There was an equal mix of couples and families, all of whom the
wait staff treated in a friendly and attentive manner. Four of us
dined, selecting meals we would share so
we could all sample the dishes' flavors.

The fussiest eater at the table could not stop raving about the
Linguini with White Clam sauce, and frankly, it was a little
hard to get him to share. Not that I minded because my Caprese
Apizza (Apizza is a thin crust, well-done tomato pie, which,
interestingly enough, when nailed to a wall will not shed any
ingredients!) was the Italian pizza I've mourned for years
because I couldn't find it anywhere on American soil,
let alone in Cumming, Georgia.

Finally, I am recovering from the fork stab wounds on the
back of my hand for reaching a bit too much into my dining
companion's Chicken & Shrimp Arrabiatta with Sliced Italian
Sausage Medallions. What a marriage of flavor and texture! I
had to keep reminding the table of our initial agreement
to share like good grown ups.

The wine selection was terrific, and not exclusively Italian.
The restaurant offers fresh baked breads by the loaf and has a
tremendous carry-out business. They slightly cool their pies
baked in a 600-degree oven before boxing them, which results in
a crisp and delicious apizza that does not continue to steam and
get soggy in the carry-out box.

The owners, father-daughter duo Daniel and LeAnna Abbate,
have been tweaking the atmosphere based on customer feedback.
They want Popi to be our neighborhood sweetheart, the place
Bethelview's been waiting for, and so they ask customers for
their impressions to make it a restaurant devoted
to meeting their guests' needs.

I had to go back right away; like playing my favorite song
incessantly, I know I'll always crave it and never tire of it. And
this time at dinner, I was planning breakfast—and the leftover
apizza was every bit as delicious as the night before.
Popi Classic Italian would like your feedback and has invited
Around Town's readers to dine and fill out a comment card. You
will get 20 percent off your bill and be entered into ongoing
drawings for a free dinner for four.